Last night we had a chance to see a great show at 3rd and Lindsley. It's a bar and grill on 3rd Avenue in downtown Nashville, TN and a great venue for seeing live music. It had been a few years since we'd been there and when we heard on Lightning100 that Big Head Todd and the Monsters were going to be there we couldn't pass it up.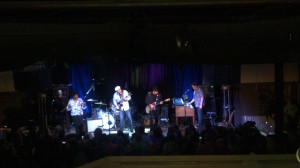 Lightning100 broadcasts from there every Sunday night and if you get there early you can find a table, have dinner and see a great show. Just so you know last night's show started at 8:00pm, we got there at 6:25 but no tables were available. We managed to find some good seats so make sure you get there early if you want a table. The last time we saw Big Head Todd was at the The Ryman Auditorium when they were promoting the Rocksteady album. Their next album, Black Beehive, will be out in a week.
Ronnie Baker Brooks was the opening act an excellent Jazz guitarist. I hadn't heard of him before but would definitely see him again. It was pretty cool when the show started BHT&M come out with Ronnie rather than letting him open by himself. A 2 1/2 hour set with a mixture of BHT&M, Ronnie doing a few songs and jumping in on some with BHT&M. If you ever get a chance to see them don't miss it, you won't be disappointed.