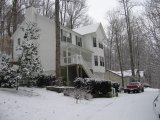 The weather men have been warning us snow could be on the way but you never believe it till you see it. Kids in some counties have been out of school for a few days but that's mainly for the flew bug, not the weather. Last night they got it right and we had our first snow of 07. A handful of photos are on the flikr feed, see them all here.
Never thought I'd use my busted snow shovel again but sure enough today was the day. Did a little on the steps before work and took care of the drive and back porch at lunch. Not to bad time wise, about 20 minutes, but when it's only a half inch a good broom will do.
Roads have now melted and I'm sure it will be gone in a few days as the temp will be in the 30's over the weekend. Nothing like it was in IL back in the day. But I can do without shoveling a foot off the drive. If it would ever come to that I think I'd either have the neighbor kids come over or just take the truck and make a lane !!!!